The Surf Station
Below is a sample of various blog posts and articles created for the Surf Station.
For over 30 years,the Surf station has shared their surfing expertise with
the St. Augustine surf community as well as communities along the entire East Coast.
The Swell Seeker's Handbook: Hawaii
Let's face it. We as surfers tend to develop a wandering eye over time. We lust after new boards, knowing full well that we have a stocked quiver waiting for us at home. We scroll through social media to keep tabs on who is scoring and where, even when we have waves breaking out back. Above all, we feel the need to feed this inherited, insatiable desire to pack a bag, board a plane and go chase swell in a part of the world that we have never seen or experienced before.
Despite us all having this shared desire for exploration and travel, planning the trek to a foreign land can often be easier said than done.
Recognizing that the art of travel isn't always easy to master, we here at the Surf Station have decided to launch The Swell Seekers' Handbook, your all inclusive guide to get you out there and scoring swell, no matter where it may be.
For this first edition of The Swell Seekers' Handbook, we follow Surf Station team riders Noah and Evan Brownell on their yearly journey to Hawaii's North Shore in search of some winter swell. For the past three years, the Brownells have traveled to the proving grounds of big wave surf, in hopes of surfing heavy waves and generating content to share with the surf community. This winter, we caught up with the Brownells and photographer Cody Coleman to learn about just what it takes to take on the North Shore in the winter season.
When is the best time of the year to visit the North Shore for swell?
Evan: "Well I would say if you're trying to catch waves to come in February or March because the other months are just way too crowded but definitely have a big board with you. Don't have any super small boards with you. Not your standard home boards. You go to paddle out and you feel all those extra inches of foam under you and you're like dang, this is a big board. You think, the waves must be pretty big for this, so it gets your heart racing pretty good."
How would you compare surfing the North Shore to surfing a place like St. Augustine?
Evan: "It [the North Shore] definitely has the most power of any wave I've surfed in the world. At almost every break you're getting worked or you're getting pushed around by the water. There's not really any currents, but when there is a current, it's super strong."
Noah: "It's a lot different than St. Augustine. One, because it's a really powerful wave. I was surfing Rockies I think three days ago and a medium sized set picked me up and threw me down to the bottom of the reef and I kicked the reef. Now I've got glue in my foot and I can't surf for five days. But second, it's really pretty at the same time when you're looking back at the mountains and surfing so it's just unreal."
What sort of board is best suited for North Shore swell?
Evan: "I have a ton of boards with me. I get all my boards custom through Lost with Matt Kechele. So I have my 7'2" which is for like Sunset and Pipe when it gets big. And then I just have a 6'6" for medium-sized Sunset and fun-sized Pipe and both those are pin tails and they have a good bit of rocker in them. Then I've got my 5'11" just standard shortboard and I have a 6'3" and a 6'1" also standard shortboards pretty much for any kind of conditions."
Noah: "I couldn't leave St. Augustine without my special board which is my 5'11" I really like it and I would say I ride that almost every day, expect for the big days. It's a Matt Kechele it's a 5'11". It's a rounded pin tail."
What tips would you have for what to pack for Hawaii?
Evan: "I would definitely say pick up a Prolite board bag. It's an awesome surfboard bag that fits seven boards in it and then have plenty of packing material like bubble wrap, cardboard and plenty of towels to put around the tails."
Noah: "Definitely I have to have my wetsuit top because I get cold easily and then can't forget my fins of course my board and then oh I always forget wax and sunscreen, that's one thing I always forget but other than that, I'm good. Vissla is definitely the most comfortable for top and board shorts and then sunscreen, Sun Bum I'm sponsored by them and I always use their stuff and it works really good. Can't get enough of it."
What recommendation would you have for other sorts of surf gear someone should have on a trip like this? Any personal preferences?
Evan: "I ride my large Mick Fanning fins they're from FCS 2. I always just use those fins because they're bigger and they hold way better I know they're not going to slide out."
Noah: "There's only two fins that I ride and it's the FCS 2 Accelerators and the Kolohe Andino FCS 2 model. They're my favorite fins in the entire world. The Accelerators send me down the line super fast I just feel like I can do really good turns with them. Then the Kolohe's I feel like are better in the air so I'll ride them at a beach break like Ehukai and I'll ride the Accelerators at Sunset when it's bigger and then when I'm doing turns I feel like I'm making the wave and not dying. When I wax my board I'll use Sticky Bump basecoat and I have to do the little diamonds on my board so I'll do like lines then diamonds in it and then I'll cover that up with basecoat and then I'll use Sex Wax because I feel like it makes the best bumps."
What were your expectations for this trip? What was the reality of the tip now that you're home?
Evan: "I've been here three times so my expectations were kind of just the same as always. Just kind of go out there, have a good time, get plenty of photos with Cody and get ready to go on the next trip."
Noah: "Well I thought I was going to be able to go out at Pipe and catch a lot of waves and get really barreled, but the reality was I went out at Pipe and caught one wave because it was so crowded. I would like to say if you're an experienced surfer, be aggressive and try to get as many waves as you can and then also just paddle hard so you don't get sucked over the falls."
For most, the dream of surfing the North Shore of Hawaii has remained just that...a dream. This tropical paradise has garnered a reputation for being the mecca of big wave surfing, an escape that few have dared to embark upon. The Brownell brothers provide us with an inside look into this mysterious temptress' innerworkings and the lesson that we are left with is this: come hungry. Come ready to prove yourself in some of the most challenging and rewarding conditions we as surfers can see. Don't forget the sunscreen and maybe most important of all, it's time to wax up your big wave board and put it to the test.
With the summer season upon us, The Swell Seeker's Handbook will be searching out a new set of travelers to share some wisdom on where to escape the summertime flat spells. Sure, our eyes may wander as surfers...but we wouldn't have it any other way.
To shop any of the products recommended by the Brownells, see the links listed below!
Lost Surfboards
Prolite Surfboard Bags
Sun Bum Products
FCS II Fins
Vissla Wetsuit Jackets
More Surf Station Articles
Board Talk at the Shop: Tails
Board Talk at the Shop: Rails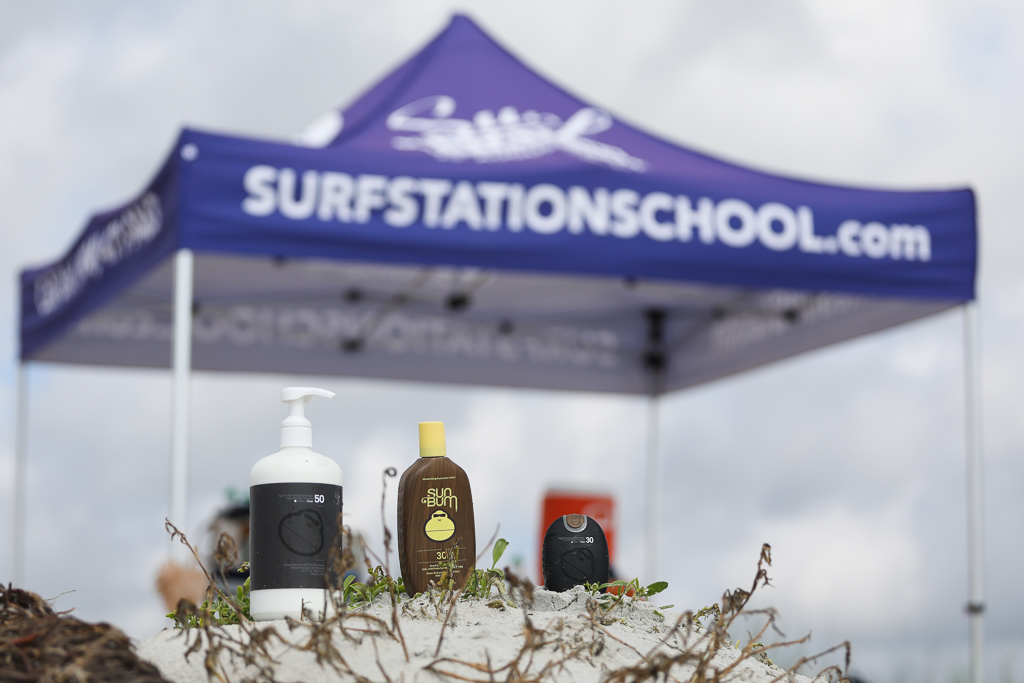 Your Summetime Skincare Guide
Easy Steps to Get You Shredding This Summer
"Generations" of Style & Grace With Seea
Respect Your Mother (Ocean): June 8th
Surf Station: Shop Updates
Summer 2018 Soft Top Surfboard Review
New in at the Shop: Byrd Hair Products
New in at the Shop: Raw Elements